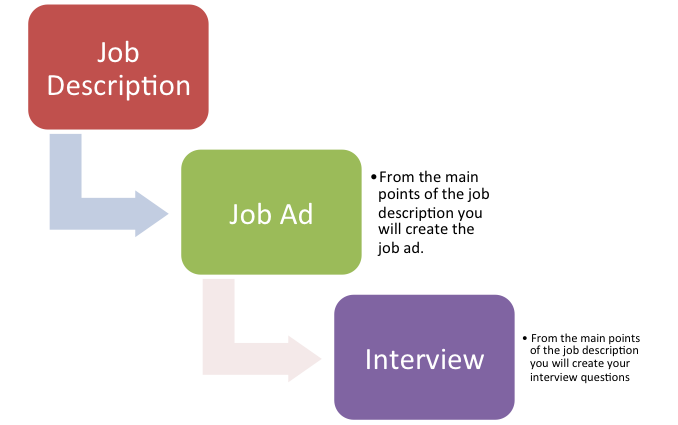 A great is your road map to successful hiring, training, and evaluation. A job description summarizes the duties, responsibilities, and qualifications required for the position. A clear job will not only make every step of the hiring process easier, it will also make other human resources functions easier and more streamlined. (See Appendix 1 for an example of a job description.)
Here are some guidelines for creating an effective job description.
Identify the main duties and responsibilities of the position.

Summarize the most critical or important functions.
List the daily, weekly, monthly, and annual tasks or responsibilities of the position. Use descriptive verbs to identify the skills required (e.g., manage serving staff, resolve customer complaints, coordinate shift schedules, complete food orders).

 Be specific about the qualifications, skills, and experience required.

Consider requirements for education, work experience, technical skills, and "soft" skills (i.e., interpersonal skills, attitude) that an employee must have to succeed in the position.
Identify the specific skills that you require (e.g., ability to solve problems with staff and guests tactfully and efficiently).
Specify to what degree the candidate needs to possess the skills you require (e.g., for keyboarding skills, specify the speed and accuracy expected).
Include the level of education and training needed to meet the requirements of the job.
Be sure to include any specific training prerequisites (e.g., Red Seal, WorldHost, FOODSAFE, Serving It Right certificates), as well the number of years of experience in a similar position (e.g., minimum two years' experience working in a high-volume restaurant).
Determine which skills are essential for the position and which are an asset but not absolutely necessary.
Be clear to what degree you are willing to train successful candidates once they are hired (such as offering an apprenticeship).
Be realistic. Asking for too much may prevent suitable applicants from applying; asking for too little may attract too many underqualified applicants.
Identify to which position this position reports.
List which positions report to this position. In both these cases, the people in the positions may change but the reporting structure would not necessarily change.

Date the document.

Job descriptions are not static documents. As positions within the organization and the needs of the organization change, so do the job requirements. Therefore the job description needs to reflect these changes, and knowing the date the job description was last reviewed is very helpful.
In short, be sure to include the following components when creating a job description:
Job title
Main duties and responsibilities
Skills, qualifications, and experience required
Equipment and tools required
Training requirements
Working conditions (e.g., any travel requirements, heavy lifting expectations, hours of work, whether inside or outside work)
Reporting structure
Date
A detailed list of duties, skills, and qualifications required to perform a job.