Chapter 5: Selecting Business-Level Strategy
Describe the nature of a best-cost strategy.
Understand why executing a best-cost strategy is difficult.
The Challenge of Following a Best-Cost Strategy
Some executives are not content to have their firms compete based on offering low prices or unique features. They want it all! Firms that charge relatively low prices and offer substantial differentiation are following a  strategy (Figure 5.19 "Best-Cost Strategy"). This strategy is difficult to execute in part because creating unique features and communicating to customers why these features are useful generally raises a firm's costs of doing business. Product development and advertising can both be quite expensive. However, firms that manage to implement an effective best-cost strategy are often very successful.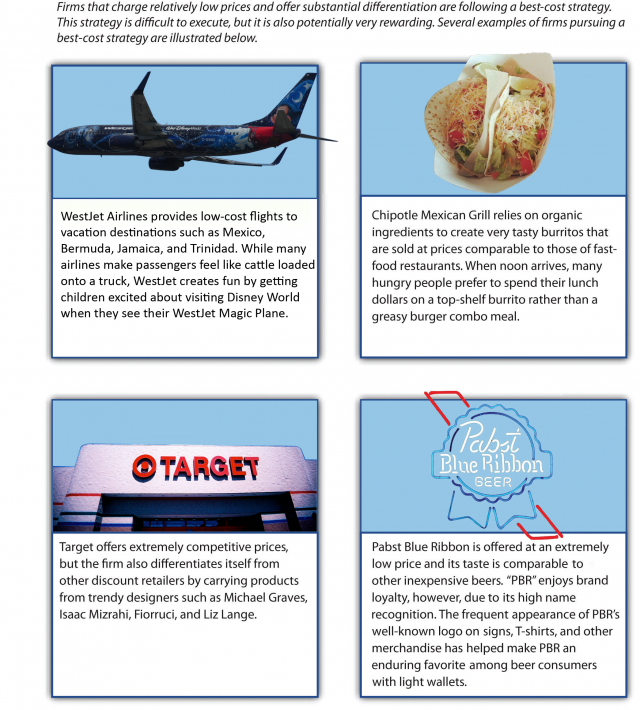 Target appears to be following a best-cost strategy. The firm charges prices that are relatively low among retailers while at the same time attracting trend-conscious consumers by carrying products from famous designers, such as Michael Graves, Isaac Mizrahi, Fiorucci, Liz Lange, and others. This is a lucrative position for Target, but the position is under attack from all sides. Cost leader Walmart charges lower prices than Target. This makes Walmart a constant threat to steal the thriftiest of Target's customers. Focus differentiators such as Anthropologie that specialize in trendy clothing and home furnishings can take business from Target in those areas. Deep discounters such as Winners and Marshalls offer another viable alternative to shoppers because they offer designer clothes and furnishings at closeout prices. A firm such as Target that uses a best-cost strategy also opens itself up to a wider variety of potentially lethal rivals.
IKEA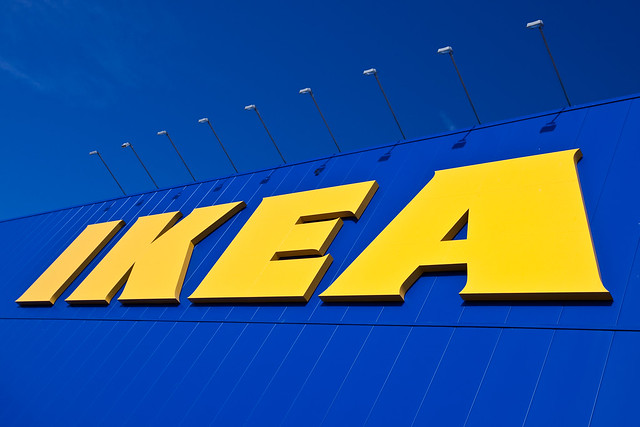 IKEA is a Swedish company registered in the Netherlands that designs and sells ready-to-assemble furniture (such as beds, chairs, and desks), appliances, and home accessories. Since January 2008, the company has been the world's largest furniture retailer. Ikea was founded in Sweden in 1943 by then-17-year-old Ingvar Kamprad, who was listed as one of the world's richest people in 2013. Kampard's fortune peaked at $33 billion, but he has transferred the vast majority of his economic stake in the retailer to his philanthropic foundations. The company is known for its modern architectural designs for various types of appliances and furniture, and its interior design work is often associated with an eco-friendly simplicity.  In addition, the firm is known for its attention to cost control, operational details, and continuous product development, corporate attributes that allowed IKEA to lower its prices by an average of 2 to 3 percent over the decade to 2010 during a period of global expansion.
IKEA revolutionized the furniture industry by offering cheap but stylish furniture. Ikea is able to keep its prices low by sourcing its products in low-wage countries and offering a very basic level of service. Ikea will assemble or deliver furniture for an additional cost; otherwise, customers must collect the furniture in the warehouse and assemble at home themselves. While this is less convenient than traditional retailers, it allows Ikea to offer lower prices that attract customers (Scilly, n.d.).
As of January 2014, IKEA owns and operates stores in 26 countries, with 227 of its 298 stores in Europe. It sells 9,500 products and its stores received 690 million store visits in 2013. The company uses approximately 1 percent of the Earth's wood supply, making it one of the largest users of wood in the retail sector (Wikipedia, n.d.).
Pursuing the Best-Cost Strategy through a Low-Overhead Business Model
One route toward a best-cost strategy is for a firm to adopt a business model that has very low fixed costs and overhead relative to the costs that competitors are absorbing (Figure 5.21 "Driving toward a Best-Cost Strategy by Reducing Overhead"). The Internet has helped make this possible for some firms. Amazon, for example, can charge low prices in part because it does not have to endure the expenses that "bricks and mortar" retailers such as Walmart and Target do in operating many hundreds of stores. Alone, this would be a low-cost strategy. However, Amazon also offers an unmatched variety of goods. This combination has made Amazon the unquestioned leader in e-commerce in North America.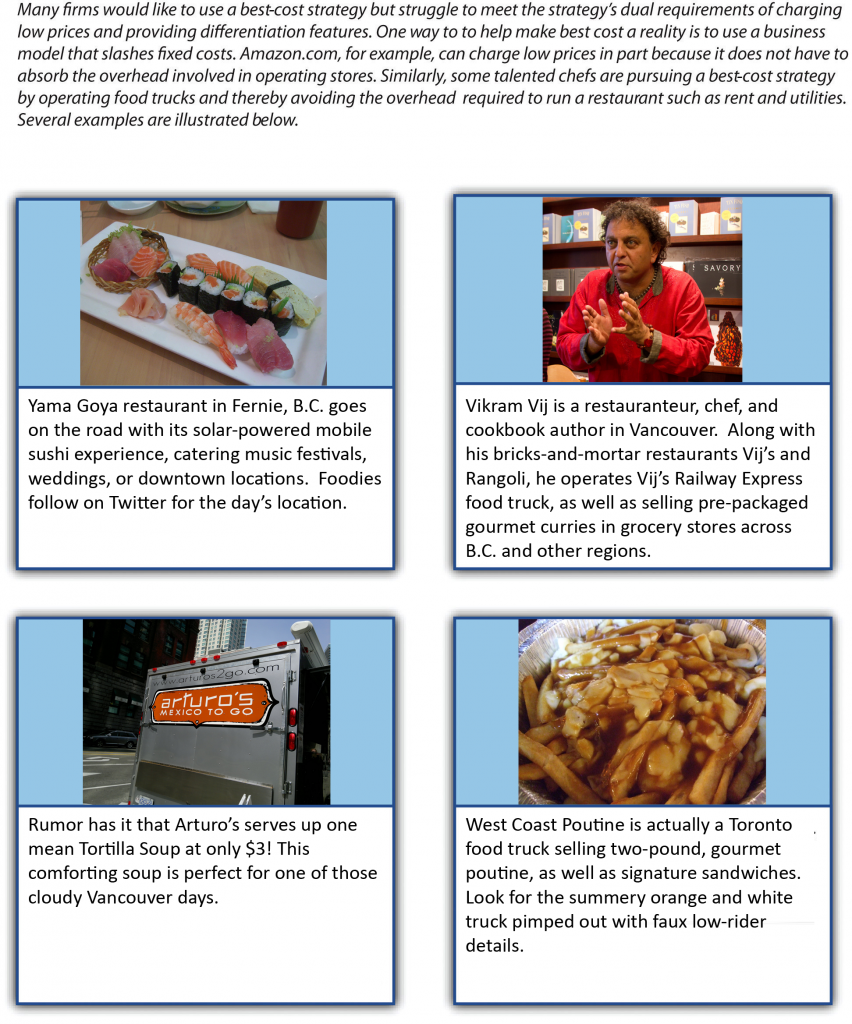 Another example is Netflix. This firm is able to offer customers a far greater variety of movies and charge lower prices than video rental stores by conducting all its business over the Internet and via mail. Netflix's best-cost strategy has been so successful that $10,000 invested in the firm's stock in May 2006 was worth more than $90,000 five years later according to Standard & Poor's stock report on Netflix.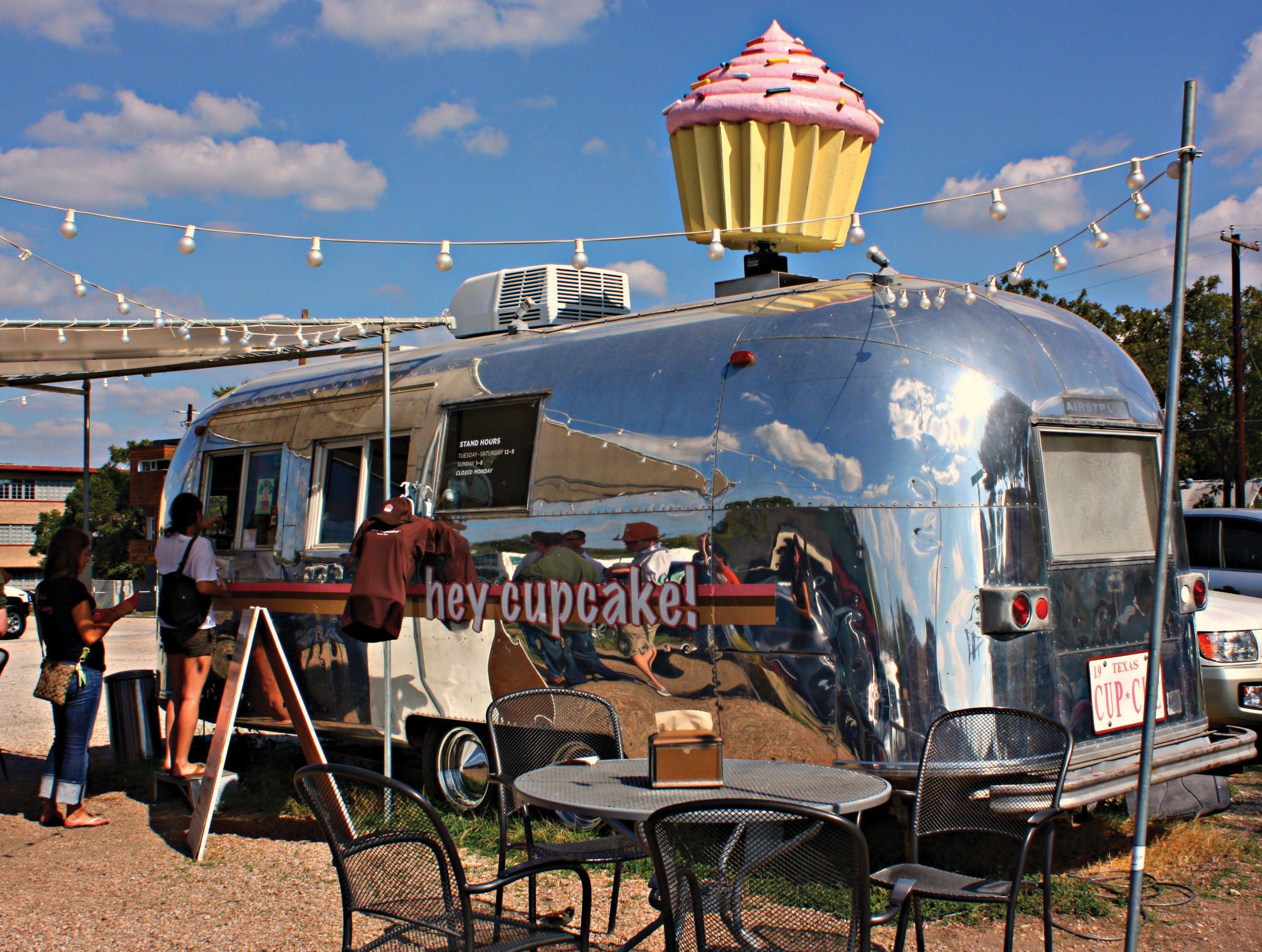 Moving toward a best-cost strategy by dramatically reducing expenses is also possible for firms that cannot rely on the Internet as a sales channel. Owning a restaurant requires significant overhead costs, such as rent and utilities. Some talented chefs are escaping these costs by taking their food to the streets. Food trucks that serve high-end specialty dishes at very economical prices are becoming a popular trend in cities around the country.
In Vancouver, B.C., the JAPADOG food trucks offer hot dogs with non-traditional toppings such as sliced onion with special plum sauce, or its signature hot dog with teriyaki sauce, mayo, and seaweed, each for about $5 (JAPADOG, 2014). Richmond, B.C., a suburb of Vancouver, holds its very popular summer-long International Night Market, which includes both retail and food vendors (Richmond Night Market, 2014).
If local bylaws permit, some cities' food trucks change locations and send out their spot-for-the-day (or evening) on Twitter (some food truck permits are for one location only). Beyond keeping costs low, the mobility of food trucks offers another advantage over a traditional restaurant in that they can change location to serve different clients. For example, food trucks can sell lunch downtown and an afternoon snack near the subway and then move to the nightclub area of the city to sell partygoers a late-night snack before they head home.
A best-cost strategy can be an effective business-level strategy to the extent that a firm offers differentiated goods and services at relatively low prices.
What is an example of an industry that you think a best-cost strategy could be successful? How would you differentiate a company to achieve success in this industry?
What is an example of a firm following a best-cost strategy near your college or university?
References
JAPADOG. (2014). Japanese style Hot dog in Canada. Retrieved from http://www.japadog.com/
Richmond Night Market. (2014). The Official Richmond Night Market 2014. Retrieved from http://www.richmondnightmarket.com/
Scilly, M. (n.d.). Examples of Cost Leadership & Strategy Marketing. Retrieved from http://smallbusiness.chron.com/examples-cost-leadership-strategy-marketing-12259.html
Wikipedia. (n.d.). IKEA. Retrieved from http://en.wikipedia.org/wiki/IKEA
Image descriptions
Figure 5.19 image description: Best-Cost Strategy
Firms that charge relatively low prices and offer substantial differentiation are following a best-cost strategy. This strategy is difficult to execute, but it is also potentially very rewarding. Several examples of firms pursuing a best-cost strategy are illustrated below.
WestJet Airlines provides low-cost flights to vacation destinations such as Mexico, Bermuda, Jamaica, and Trinidad. While many airlines make passengers feel like cattle loaded onto a truck, WestJet creates fun by getting children excited about visiting Disney World when they see their WestJet Magic Plane.
Chipotle Mexican Grill relies on organic ingredients to create very tasty burritos that are sold at prices comparable to those of fast-food restaurants. When noon arrives, many hungry people prefer to spend their lunch dollars on a top-shelf burrito rather than a greasy burger combo meal.
Target offers extremely competitive prices, but the firm also differentiates itself from other discount retailers by carrying products from trendy designers such as Michael Graves, Isaac Mizrahi, Fiorruci, and Liz Lange.
Pabst Blue Ribbon is offered at an extremely low price and its taste is comparable to other inexpensive beers. "PBR" enjoys brand loyalty, however, due to its high name recognition. The frequent appearance of PBR's well-known logo on signs, T-shirts, and other merchandise has helped make PBR an enduring favourite among beer consumers with light wallets.
Figure 5.21 image description: Driving towards a Best-Cost Strategy by Reducing Overhead
Many firms would like to use a best-cost strategy but struggle to meet the strategy's dual requirements of charging low prices and providing differentiation features. One way to to help make best cost a reality is to use a business model that slashes fixed costs.Amazon.com/ for example, can charge low prices in part because it does not have to absorb the overhead involved in operating stores. Similarly, some talented chefs are pursuing a best-cost strategy by operating food trucks and thereby avoiding the overhead required to run a restaurant such as rent and utilities. Several examples are illustrated below.
Yama Goya restaurant in Fernie, B.C. goes on the road with its solar-powered mobile sushi experience, catering music festivals, weddings, or downtown locations. Foodies follow on Twitter for the day's location.
Vikram Vij is a restaurateur, chef, and cookbook author in Vancouver. Along With his bricks-and-mortar restaurants Vij's and Rangoli, he operates Vij's Railway Express food truck, as well as selling pre-packaged gourmet curries in grocery stores across B.C. and other regions.
Rumor has it that Arturo's serves up one mean Tortilla Soup at only $3! This comforting soup is perfect for one of those cloudy Vancouver days.
West Coast Poutine is actually a Toronto food truck selling two-pound, gourmet poutine, as well as signature sandwiches. Look for the summery orange and white truck pimped out with faux low-rider details.
A business-level strategy followed by firms that charge relatively low prices and offers substantial differentiation.