Two Ex-Hippies Choose Their Form
Who would have thought it? Two ex-hippies with strong interests in social activism would end up starting one of the best-known ice cream companies in the country—Ben & Jerry's. Perhaps it was meant to be. Ben Cohen (the "Ben" of Ben & Jerry's) always had a fascination with ice cream. As a child, he made his own mixtures by smashing his favorite cookies and candies into his ice cream.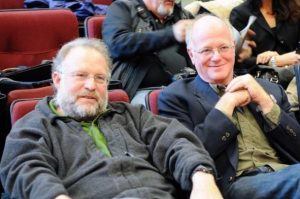 But it wasn't until his senior year in high school that he became an official "ice cream man," happily driving his truck through neighborhoods filled with kids eager to buy his ice cream pops. After high school, Ben tried college but it wasn't for him. He attended Colgate University for a year and a half before he dropped out to return to his real love: being an ice cream man. He tried college again—this time at Skidmore, where he studied pottery and jewelry making—but, in spite of his selection of courses, still didn't like it. Image Credit[1]
In the meantime, Jerry Greenfield (the "Jerry" of Ben & Jerry's) was following a similar path. He majored in pre-med at Oberlin College in the hopes of one day becoming a doctor. But he had to give up on this goal when he was not accepted into medical school.
On a positive note, though, his college education steered him into a more lucrative field: the world of ice cream making. He got his first peek at the ice cream industry when he worked as a scooper in the student cafeteria at Oberlin. So, fourteen years after they first met on the junior high school track team, Ben and Jerry reunited and decided to go into ice cream making big time. They moved to Burlington, Vermont—a college town in need of an ice cream parlor—and completed a $5 correspondence course from Penn State on making ice cream. After getting an A in the course they took the plunge: with their life savings of $8,000 and $4,000 of borrowed funds they set up an ice cream shop in a made-over gas station on a busy street corner in Burlington.[2] The next big decision was which form of business ownership was best for them. This chapter introduces you to their options.
---