Corporate Social Responsibility
Corporate social responsibility (CSR) refers to the approach that an organization takes in balancing its responsibilities toward different stakeholders when making legal, economical, ethical, and social decisions. Remember that we previously define stakeholders as those with a legitimate interest in the success or failure of the business and the policies it adopts. The term social responsibility refers to the approach that an organization takes in balancing its responsibilities toward their various stakeholders.
What motivates companies to be "socially responsible"? We hope it's because they want to do the right thing, and for many companies , "doing the right thing" is a key motivator. The fact is, it's often hard to figure out what the "right thing" is: what's "right" for one group of stakeholders isn't necessarily "right" for another. One thing, however, is certain: companies today are held to higher standards than ever before. Consumers and other groups consider not only the quality and price of a company's products but also its character. If too many groups see a company as a poor corporate citizen, it will have a harder time attracting qualified employees, finding investors, and selling its products. Good corporate citizens, by contrast, are more successful in all these areas.
An open access article updating Carroll's Pyramid by Carroll himself and diving deeper into CSR.
Another Lens
Carroll's Pyramid is a well-respected resource for situating corporate social responsibility. Another view of corporate social responsibility is from the perspective of a company's relationships with its stakeholders. In this model, the focus is on managers—not owners—as the principals involved in these relationships. Owners are the stakeholders who invest risk capital in the firm in expectation of a financial return. Other stakeholders include employees, suppliers, and the communities in which the firm does business. Proponents of this model hold that customers, who provide the firm with revenue, have a special claim on managers' attention. The arrows indicate the two-way nature of corporation-stakeholder relationships. All stakeholders have some claim on the firm's resources and returns, and management's job is to make decisions that balance these claims. [2]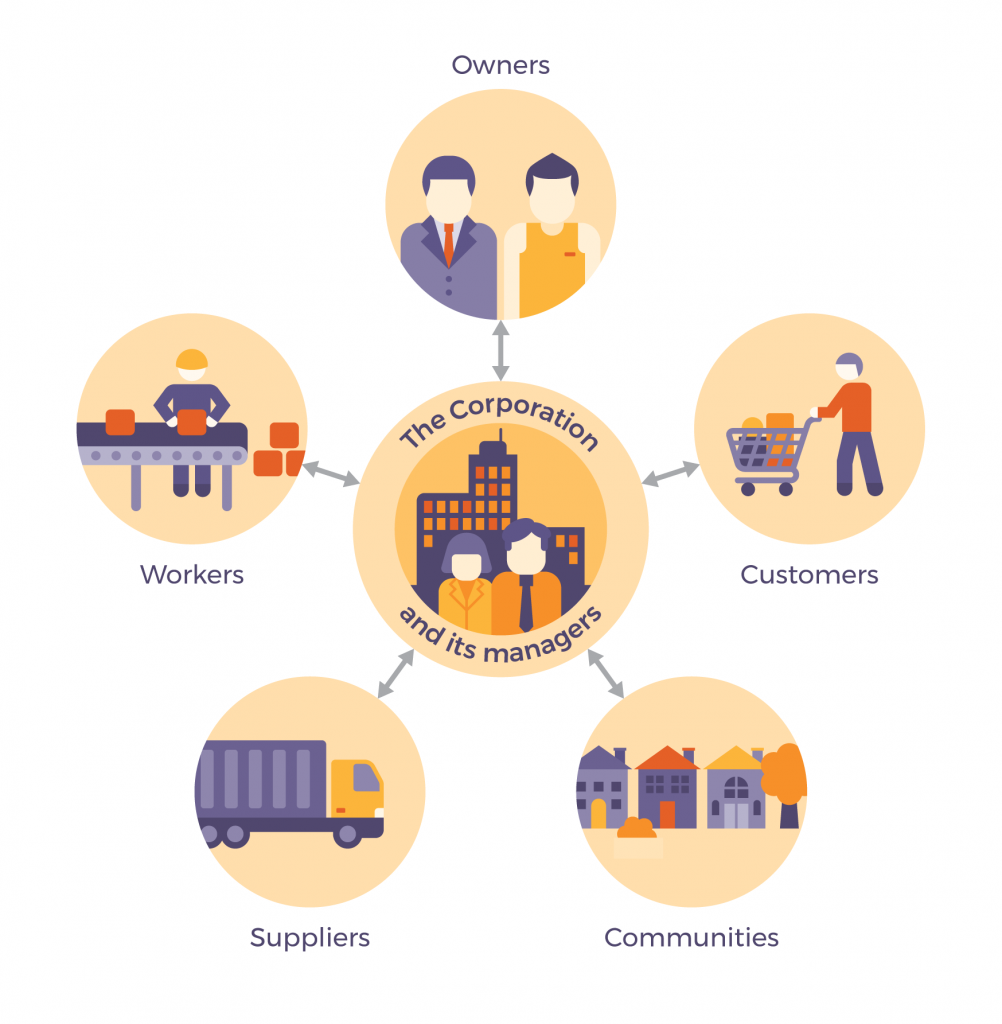 Let's look at some of the ways in which companies can be "socially responsible" in considering the claims of various stakeholders.

Owners
Owners invest money in companies. In return, the people who run a company have a responsibility to increase the value of owners' investments through profitable operations.  Managers also have a responsibility to provide owners (as well as other stakeholders having financial interests, such as creditors and suppliers) with accurate, reliable information about the performance of the business. Clearly, this is one of the areas in which WorldCom managers fell down on the job. Upper-level management purposely deceived shareholders by presenting them with fraudulent financial statement.
Managers
Managers have what is known as a fiduciary responsibility to owners: they're responsible for safeguarding the company's assets and handling its funds in a trustworthy manner. Yet managers experience what is called the agency problem; a situation in which their best interests do not align with those of the owners who employ them. To enforce managers' fiduciary responsibilities for a firm's financial statements and accounting records, Ontario's Keeping the Promise for a Strong Economy Act (Budget Measures) 2002, also known as Bill 198, (Canadian equivalent to Sarbanes-Oxley Act of 2002 in the United States) requires CEOs and CFOs to attest to their accuracy. The law also imposes penalties on corporate officers, auditors, board members, and any others who commit fraud. You'll learn more about this law in your accounting and business law courses.
Employees
Companies are responsible for providing employees with safe, healthy places to work—as well as environments that are free from sexual harassment and all types of discrimination. They should also offer appropriate wages and benefits. In the following sections, we'll take a closer look at these areas of corporate responsibility.
Wages and Benefits
At the very least, employers must obey laws governing minimum wage and overtime pay. A minimum wage is set by the provincial government. As of January 1, 2018, the Ontario rate is $14.00 with another increase to $15.00 set for January 1, 2019.  By law, employers must also provide certain benefits—Canadian Pension Plan (CPP -retirement funds), unemployment insurance (protects against loss of income in case of job loss), and depending on the industry, workers' compensation (covers lost wages and medical costs in case of on-the-job injury). Most large companies pay most of their workers more than minimum wage and offer broader benefits, including medical, dental, and vision care, as well as savings programs, in order to compete for talent.
Safety and Health
Though it seems obvious that companies should guard workers' safety and health, some simply don't. For over four decades, for example, executives at Johns Manville suppressed evidence that one of its products, asbestos, was responsible for the deadly lung disease developed by many of its workers. [3] The company concealed chest X- rays from stricken workers, and executives decided that it was simply cheaper to pay workers' compensation claims than to create a safer work environment. A New Jersey court was quite blunt in its judgment: Johns Manville, it held, had made a deliberate, cold-blooded decision to do nothing to protect at-risk workers, in blatant disregard of their rights.[4]
The Globe and Mail's 2017 article, "Statistics Canada looks to close data gap on workplace death, injuries" examines the different, Canadian landscape on safety and health.
Currently, responsibility for workers' compensation and occupational health and safety issues falls largely to provinces or territories – and each jurisdiction has different approaches in capturing data. As a result, there's an "uneven landscape" of health and safety research capacity, said Barbara Neis, co-founder and senior research associate at the SafetyNet Centre for Occupational Health and Safety Research at Memorial University.
The last time Statistics Canada produced a national analysis was in 1996.
Responsibility for fatality and injury counts, which are based on accepted workers' compensation claims, shifted over to the Association of Workers' Compensation Boards at that time. Detailed data must be purchased, and researchers say these counts don't represent the whole workforce, partly because not all sectors or types of workers are included in the workers' compensation system.
Available workers' compensation numbers show about 350 Canadians die each year from an on-the-job injury at work. If longer-term work-related illnesses (such as mesothelioma from asbestos exposures, or lung cancers from silica dust) are factored in, this number climbs to about 1,000 deaths a year.
Customers
The purpose of any business is to satisfy customers who reward businesses by buying their products. Sellers are also responsible—both ethically and legally—for treating customers fairly. This means customers have:
The right to safe products

. A company should sell no product that it suspects of being unsafe for buyers. Thus, producers have an obligation to safety-test products before releasing them for public consumption. The automobile industry, for example, conducts extensive safety testing before introducing new models (though recalls remain common).

The right to be informed about a product

. Sellers should furnish consumers with the product information that they need to make an informed purchase decision. That's why pillows have labels identifying the materials used to make them, for instance.

The right to choose what to buy

. Consumers have a right to decide which products to purchase, and sellers should let them know what their options are. Pharmacists, for example, should tell patients when a prescription can be filled with a cheaper brand-name or generic drug. Telephone companies should explain alternative calling plans.

The right to be heard

. Companies must tell customers how to contact them with complaints or concerns. They should also listen and respond.
Companies share the responsibility for the legal and ethical treatment of consumers with several government agencies.
Consumer protection legislation in Canada[5]
In Canada, consumer complaints are regulated by different levels of government, as well as non-government organizations. Finding the right place to direct your complaint is not always easy, but understanding your rights as a consumer is an important part of the complaint filing process.
Provincial and territorial consumer protection legislation
Many consumer complaints fall under provincial and territorial jurisdiction, including issues related to:
buying goods and services;

contracts;

the purchase, maintenance or repair of motor vehicles;

credit reporting agencies and the practices of collection agencies
Federal consumer protection legislation
The Government of Canada has an important role in consumer awareness and protection.
Federal agencies and departments are responsible for enforcing legislation related to various issues, including:
consumer product safety;

food safety;

consumer product packaging and labelling;

anti-competitive practices, such as price fixing and misleading advertising;

privacy complaints.
Additional resources to remember
For more relevant areas where federal agencies and departments regulate consumer issues consult the Government of Canada website: Federal consumer protection legislation in Canada
In Ontario, customers have the added protection of the Consumer Protection Act. 
Communities
For obvious reasons, most communities see getting a new business as an asset and view losing one—especially a large employer—as a detriment. After all, the economic impact of business activities on local communities is substantial: they provide jobs, pay taxes, and support local education, health, and recreation programs. Both big and small businesses donate funds to community projects, encourage employees to volunteer their time, and donate equipment and products for a variety of activities. Larger companies can make greater financial contributions. 
Philanthropy
Many large corporations support various charities, an activity called philanthropy. Some donate a percentage of sales or profits to worthwhile causes.  Retailer Target, for example, donates 5 percent of its profits—about $2 million per week—to schools, neighborhoods, and local projects across the country; its store-based grants underwrite programs in early childhood education, the arts, and family-violence prevention. [6] The late actor Paul Newman donated 100 percent of the profits from "Newman's Own" foods (salad dressing, pasta sauce, popcorn, and other products sold in eight countries). His company continues his legacy of donating all profits and distributing them to thousands of organizations, including the Hole in the Wall Gang camps for seriously ill children. [7]
Across the border, Canadian companies also show their philanthropic side. Tim Horton's Children's Foundation sends 19,000 kids to camp each summer, who would otherwise not have the resources to attend. [8]  Its Timbits Minor Sports Program supports the participation of 300 000 kids in their pursuit of hockey, soccer, lacrosse, softball, baseball, and ringette [9] . In 2017, Loblaw Companies and its President's Choice Children's Charity pledged $150 million over the next decade to address childhood hunger in Canada. [10] These are just two examples of Canadian companies giving back at the local and national levels.  
ESG = Environmental Social Governance
ESG is a framework that helps stakeholders understand how an organization manages risks and opportunities around sustainability issues. The ESG framework has evolved from other historical movements that focused on health and safety issues, pollution reduction, and corporate philanthropy. ESG has changed how capital allocation decisions are made by many of the largest financial services firms and asset managers in the world. As organizations embrace this new accountability an emerging class of ESG specialists is stepping into the industry and supporting both net zero and carbon neutrality goals.  [11]
B Corp = Benefit Corporation [12]
B Corps, or Beneficial Corporations, are businesses that act in ways that benefit society as a whole. What defines them is their belief that the purpose of a company is not just profits, but also social and environmental good. The movement of people using business as a force for good has exploded since B Corp certification was launched in 2006. More than 6,200 companies in 87 countries and 159 industries are now certified B Corps. B Corp certification is a designation—based on a rigorous assessment—that indicates your business meets the highest standards in three areas:
Social and environmental performance: Certification attests that B Corps "walk the talk" in a range of business areas, from employee benefits to ethical supply chains and charitable giving. The assessment process includes indicators and best practices that affect all stakeholders and encompass all aspects of a company's operations and business model to arrive at a holistic view of its overall impact.
Public transparency: Certified companies must post their impact reports on the B Lab website, which certifies B Corps. This builds public trust in companies' claims about sustainability and other beneficial practices.
Legal accountability: Certified B corps are legally required to consider the impact of their decisions on all stakeholders (a model known as stakeholder governance). This ensures that as B Corps grow and evolve, they remain legally accountable to workers, communities, customers, suppliers and the environment—not just shareholders.
OPTIONAL READING – Resources to better understand ESG and B Corp.
---