11

Create a Weekly Schedule
A weekly schedule is a good tool to evaluate whether your use of time allows you to meet your overall goals. Do you have enough time for study? Is there time to maintain a healthy lifestyle?
Create a weekly schedule that includes your class times and any regularly scheduled commitments. Here are some tips to help you create your weekly schedule:
Note your class and lab times in the right day/hour blocks on a weekly schedule sheet.
If possible, reserve time immediately after your classes (30 minutes) to edit and summarize your notes while they are still fresh in your mind. You can also use this time to look over any assignments that were given to begin to plan for them and see if there are any questions you need to ask your instructor.
Schedule travel times to and from the college and between classes.
Include mealtimes, family time, physical activities, etc. Research shows that regular exercise will not only give you a general sense of well-being, but can help reduce stress.
Record regularly scheduled personal activities such as appointments, employment, and athletics.
Schedule time for pre-reading/study/review for each class during times of days when you are most alert. Try to schedule some study time each day for each class. Learning is more effectively and efficiently accomplished in shorter regular sessions than in longer irregular sessions.
At the end of the week, look ahead to plan for the next week and determine how much reading you need to do, what projects are due, and if any tests are scheduled.
Keep some empty blocks for unexpected academic or personal needs.
Schedule time to play, relax, or do whatever you want to do! This is your reward for sticking to your schedule.
Example of a weekly schedule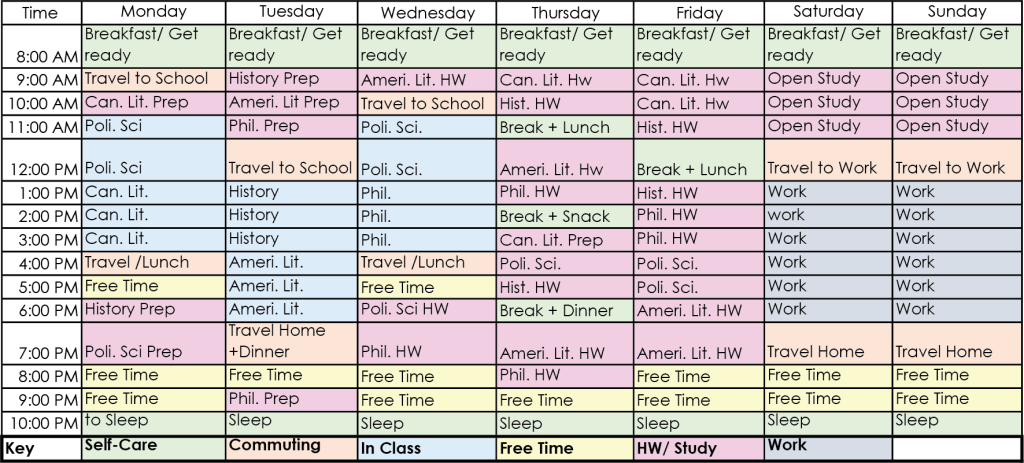 Create your weekly schedule for this semester following the principles you've just learned.
Follow the schedule for 2 weeks.
After 2 weeks, make any adjustments necessary.
Perhaps you need more time to study for a difficult class, or maybe you'd like to add a recreational activity to maintain a good life balance.
| | | | | | | |
| --- | --- | --- | --- | --- | --- | --- |
| Time | Monday | Tuesday | Wednesday | Thursday | Friday | Saturday |
| 7:30-8:00 | | | | | | |
| 8:00-8:30 | | | | | | |
| 8:30-9:00 | | | | | | |
| 9:00-9:30 | | | | | | |
| 9:30-10:00 | | | | | | |
| 10:00-10:30 | | | | | | |
| 10:30-11:00 | | | | | | |
| 11:00-11:30 | | | | | | |
| 11:30-12:00 | | | | | | |
| 12:00-12:30 | | | | | | |
| 12:30-1:00 | | | | | | |
| 1:00-1:30 | | | | | | |
| 1:30-2:00 | | | | | | |
| 2:00-2:30 | | | | | | |
| 2:30-3:00 | | | | | | |
| 3:00-3:30 | | | | | | |
| 3:30-4:00 | | | | | | |
| 4:00-4:30 | | | | | | |
| 4:30-5:00 | | | | | | |
| 5:00-5:30 | | | | | | |
| 5:30-6:00 | | | | | | |
| 6:00-6:30 | | | | | | |
| 6:30-7:00 | | | | | | |
| 7:00-7:30 | | | | | | |
| 7:30-8:00 | | | | | | |
| 8:00-8:30 | | | | | | |
| 8:30-9:00 | | | | | | |
| 9:00-9:30 | | | | | | |