3.7 Examples of Depressants
What is Alcohol?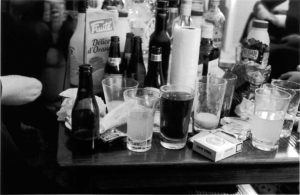 Alcohol is a widely available depressant in Canada and alcohol use in Canada is significant.  According to the Canadian Centre on Substance Use and Addiction[1] alcohol is the most commonly used substance by Canadians.
What is its origin?
Alcohol use is not new, in fact, historians have found evidence of use of alcohol for many centuries; "for most of the past 10,000 years, alcoholic beverages were the most popular and common daily drink among people in Western civilization".[2]  Alcohol is produced by fermenting or distilling various fruits, vegetables or grains.  Fermented beverages include beer and wine, and have a maximum alcohol content of about 15%.  Liquor (distilled beverages such as rum, whisky and vodka) have a higher alcohol content (Centre for Addiction and Mental Health, 2021a).
What does it look like?
Alcohol is a liquid substance; ethyl (pure) alcohol is a clear, colourless liquid.[3]  You will find alcohol in beer, wine, spirits, rubbing alcohol, hand sanitizer, cough syrup, perfume, various extracts (like vanilla for baking), aftershave, mouthwash and some body washes.
How is it administered?
Alcohol is consumed orally.
What are the effects on the mind?
Alcohol is a depressant that suppresses central nervous system activity (CNS). At rather low doses, alcohol use is associated with feelings of euphoria. As the dose increases, people report feeling sedated. With excessive alcohol use, a person might experience a complete loss of consciousness and/or difficulty remembering events that occurred during a period of intoxication.[4]  Psychological dependence is high with alcohol, due to the impact on the CNS.
What are the effects on the body?
Generally, alcohol is associated with decreases in reaction time and visual acuity, lowered levels of alertness, and reduction in behavioral control.  Alcohol can cause birth defects such as Fetal Alcohol Spectrum Disorder (FASD) for women who are pregnant. Physical dependence of alcohol is high, as tolerance increases with the amount and frequency the alcohol is consumed.  For people who have an alcohol use disorder, withdrawal can be life-threatening and should only be done under medical supervision.
What is the legal status in Canada?
Alcohol is legal in Canada and can be consumed by individuals ages 18 and over, depending on province.  Provinces set their age limit for consumption as well as licensing for sale of alcohol.
Which depressant did you know the most about?  The least?
Chapter Credit
Adapted from Unit 3.7 in  Drugs, Health & Behavior by Jacqueline Schwab. CC BY-NC-SA. Updated with Canadian Content.
Image Credits
palette by ebrkut via flickr is licensed under CC BY-ND 2.0.
Images of historical advertisements for barbiturates from: López-Muñoz, F., Ucha-Udabe, R., & Alamo, C. (2005). The history of barbiturates a century after their clinical introduction. Neuropsychiatric disease and treatment, 1(4), 329–343. https://www.ncbi.nlm.nih.gov/pmc/articles/PMC2424120/
GHB, Drugs of Abuse from: U.S. Department of Justice Drug Enforcement Administration. (2017). Drugs of abuse (p 57). https://www.dea.gov/sites/default/files/2018-06/drug_of_abuse.pdf
---